Social Programme
Welcome Reception—Monday, July 17
The welcome reception will take place in the O'Brien science building on Monday, July 17. This kick-off event will include drinks and canapés, providing a relaxed environment for participants to network. The cost for the welcome reception is included in your registration.
Irish Evening—Tuesday, July 18
The Irish night will take place in Taylors Three Rock on Tuesday, July 18. Showcasing all the best of Irish Hospitality, from entertainment to food, Taylors Three Rock is one of Ireland's most loved pub and entertainment venues, offering captivating evenings of traditional Irish song and dance accompanied by a great selection of quality Irish food to delight your palate.
Delegates that attend the Irish Night can expect to be served a delicious three course meal complete with traditional Irish coffee under the highest thatched roof in Europe, after which you will be entertained by world champion Irish Dancers and famous Irish musicians, capturing the famous Irish spirit.
Audience participation is a must! So be prepared to be taking part in singing and dancing. You can expect to be singing classic Irish Ballads like Danny Boy, Fields of Athenry and Whiskey in the Jar!
Cost: €85
To book a ticket please contact isag2017@mci-group.com
Tours—Wednesday, July 19
All tours outlined below will take place on the afternoon of Wednesday, July 19. The cost for each tour is not included in your registration fee but you can select your tour preference when registering. All tours are based on minimum numbers. Further information will be available in due course
(sold out)

Tour 1: The Irish Equine Centre and the Irish National Stud

Visit the Irish Equine Centre (IEC), where we will tour the Weatherbys lab, which is responsible for parentage verification of horses for the Irish Thoroughbred and non-Thoroughbred registers. The visit will also include a walk through the labs at the IEC where equine diagnostic testing is performed. This tour will include a visit to the beautiful Irish National Stud, which is owned by the people of Ireland—it is home to magnificent horses and boasts some of the most beautiful gardens to be found in Ireland.
13:30 Bus departs for Weatherbys and The Irish Equine Centre
14:30 Arrival at Weatherbys
15:30 Coach departs for National Stud
16:00 Arrival at National Stud
18:00 Coach departs National Stud for return to UCD
Cost: $40.00
(sold out)

Tour 2: Irish Beef Data and Genomics Programme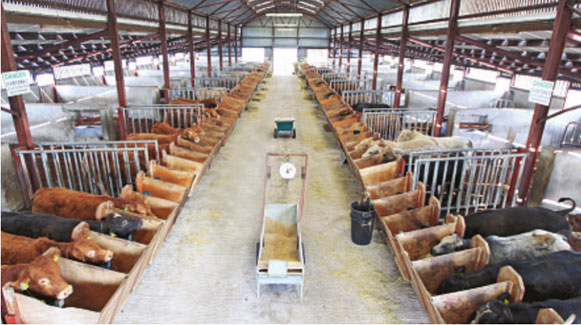 This tour will give participants an insight into the Irish Beef Data and Genomics Programme. This programme is one of the largest cattle genomics research efforts in the world, with some 1 million animals being genotyped and phenotyped. The tour will include visits to the Weatherbys labs, where genotyping is undertaken, and the Tully beef cattle progeny test centre, where feed intake phenotypes are collected as part of the programme. Irish scientists responsible for overseeing the programme will provide a full commentary on the tour.
13:30 Bus departs for Tully Beef Cattle Centre
14:30 Arrival at Tully Beef Centre
15:30 Coach departs for Weatherbys at The Irish Equine Centre
16:00 Arrival at Weatherbys
17:00 Coach departs Weatherbys for return to UCD
Cost: $30.00
Tour 3: Book of Kells and St. Patrick's Cathedral
Founded in 1592 by Queen Elizabeth I, Trinity College Dublin is a stunning city centre campus of some 10,000 students, modelled after Oxford and Cambridge and equally traditional and stately. It is no wonder that Ireland is called the Saints and the Scholars—famous alumni abound in this university: Swift, Wilde, Burke, Goldsmith, the Nobel Prize–winning physicist Ernest Walton, and Samuel Beckett, author of "Waiting for Godot". The magnificent Long Room at Trinity will take your breath away as you marvel at this ancient library's commitment to academia and learning. Trinity houses the world's most treasured manuscript—The Book of Kells—which dates from the 8th century. This lavishly decorated copy of the 4 gospels is a living example of the profound richness of ancient Celtic art. Truly a tour not to be missed!
Saint Patrick's Cathedral in Dublin, the largest church in Ireland, is formally known as The National Cathedral and Collegiate Church of Saint Patrick, Dublin, or in the Irish language as Árd Eaglais Naomh Pádraig. It was founded in 1191 by the Normans. Directly linked to the patron saint of Ireland, Saint Patrick's Cathedral is a magnificent example of Hiberno-Gothic architecture, or "gothic on a small scale". Don't miss the spectacular stained glass windows and discover why there is a Swift connection with this cathedral. Unusually, even though it is a cathedral, it is not actually the seat of a bishop as the Church of Ireland's Archbishop has his seat in Christ Church Cathedral. A fascinating tour of Dublin's religious past, and be sure to ask your tour director to explain the expression "chancing one's arm"!
Tour includes return transfers to UCD, light lunch, tour guide, access to Book of Kells, and access to St. Patricks Cathedral. The full programme will be announced shortly.
Group 1*
13:30 Coach Departs for Trinity College
14:00 Arrival at Trinity College & Book of Kells for guided tour
15:30 Depart Trinity College for St. Patrick's Cathedral
16:00 Arrive at St. Patrick's Cathedral
17:00 Depart St. Patrick's Cathedral and return to UCD

Group 2*
13:30 Coach Departs for St. Patrick's Cathedral
14:00 Arrival at St. Patrick's Cathedral
15:00 Group departs St. Patrick's Cathedral for Trinity College
15:30 Arrival at Trinity College & Book of Kells for guided tour
17:30 Depart Trinity College and return to UCD
* Please note that you will be informed of your group when you collect your badge at registration
Cost: $56.00
(sold out)

Tour 4: Powerscourt House and Gardens

Stunning scenery, a glimpse of Ireland's monastic and aristocratic past, and some excellent shopping for good measure! Powerscourt House and Gardens is located in a stunning natural setting at Enniskerry, Co Wicklow, approximately 45 minutes from Dublin city centre. A magnificent period home dating from the mid-18th century, overlooking wonderful terraced gardens and an ornamental lake, Powerscourt House was partially destroyed by fire in 1974. A long restoration project ensued, during which time the ballroom and garden rooms were rebuilt.

We will depart Dublin city centre by luxury motor coach for Powerscourt, enjoying the stunning avenue of ancient beech trees on the final approach to the house. Powerscourt is a magnificent example of an aristocratic garden with Italian and Japanese themes, herbaceous borders, ornamental lakes, splendid statuary, decorative ironwork, a pets' cemetery, and an extensive tree collection. Laid out in the 1840s with flair, knowledge, and imagination, it is probably the last garden of its size and quality ever to have been created. On site at Powerscourt is Ireland's premier shopping emporium, Avoca Handweavers.

This tour includes return transfers to UCD, light lunch, tour guide, and entrance to Powerscourt House and Gardens.

13:30 Coach departs for Powerscourt House & Gardens
14:00 Arrival at Powerscourt House & Gardens
16:00 Depart Powerscourt House & return to UCD

Cost: $45.00
Gala Dinner—Thursday, July 20

The 36th International Society for Animal Genetics (ISAG) Conference Gala Dinner will take place on Thursday, July 20, 2017, at the famed O'Reilly Hall in University College Dublin (UCD), one of Ireland's largest and most prestigious venues, designed by famed architects Scott Tallon Walker.
Guests will arrive to a drinks reception in the conservatory which overlooks the beautiful campus lake. Ten specially commissioned paintings line and complement the majestic yet modern walls of the venue, highlighting the work of local Irish artists.
The sit-down three-course dinner will showcase the best of locally sourced Irish ingredients and will be paired with wine. The after-dinner entertainment will include Irish entertainment—an all-encompassing musical experience and a night sure to be remembered!
Tickets for Gala Dinner are included in the registration fee but you have to pre-select them if wish to attend. You can purchase additional Gala Dinner tickets at a cost of $120.